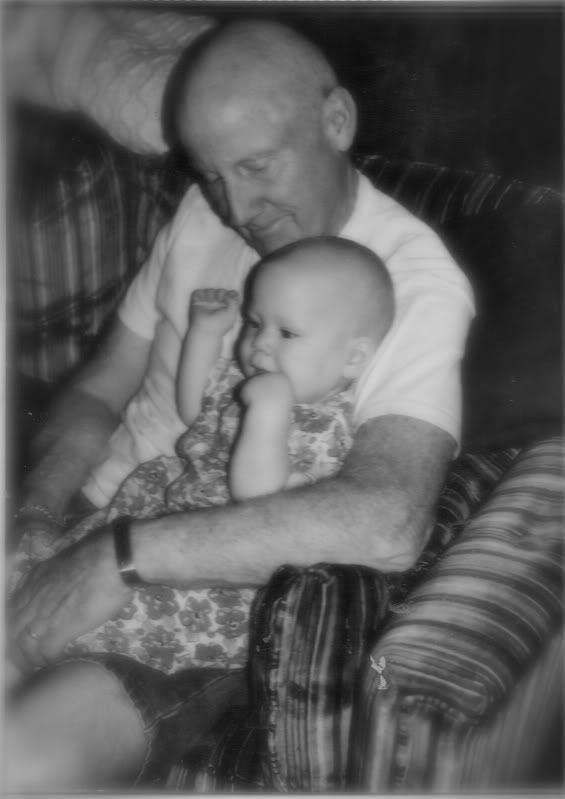 (Bernie ~ 9/15/1931 - 1/25/2010)


Poppa, We Remember You
"This is a collection of our memories of Bernie,our Grandfather affectionately known as "Poppa."
by Kristin, Jessica, Rebecca, Rachel, Sarah and Hunter (compiled by Amy )



With twinkling blue eyes and a mischievous grin, Poppa stole our hearts. We are not exactly sure how that happened since the minute one of us was born Poppa would call the baby a 'sack of salt' and threaten to sell him or her for fifty cents. We remember that instead of growing in value as we grew older, our worth declined until Poppa would offer to sell us for just a penny, box us up and send us around the world. But after a while he would sigh and say, " I'd have to buy you back, though."


We remember that his greatest joy was to convince us as toddlers to call 'Nena,' our grandmother and his better half', 'a Bum.' But every one of us caught on to that joke and responded with "No.. you're the bum, Poppa bum." Which would make him chuckle and reply with, "Your all-right. I reckon I'll keep you" Then he would point to Nena and say, "But She's still the bum.. not me."
We remember sleep overs with Nena and Poppa. Curled up in one of the huge recliners in the den, sipping on a 'tiger' cup full of 'sugared down with love' coffee, we would watch old Westerns. More than likely the movie would feature another favorite man of ours, John Wayne. In the evenings we'd stay glued to the set watching 'True T.V.' and marathon episodes of COPS. At some point during the evening Poppa would call out, "Ma, where's my cream." And we'd run to the kitchen to help Nena dish out the vanilla or butter pecan ice cream.



Even though Nena claims she can't cook, Nena would make us cinnamon toast. We remember Poppa fixing us his special breakfast of "Frozen Maine Blueberries" Occasionally we'd go out to eat where Nena would eat her grits raw while the rest of us would copy Poppa and smother our grits with sugar. Eating with him could be risky because more often than not, he'd spider walk his hand across the table and try to snatch your food.


At supper time, we would hike up the hill to Derry's where we would listen to a 'battle between the North and the South' at every meal. Someone, usually Bert, would call Poppa an "ole Yankee" and threaten to feed him greens. You see, while Poppa may have adopted 'sweetened tea, grits and 'pecan' pie, he couldn't abide a 'green' of any sort.


For as long as we can remember, Poppa and Nena would Summer in Maine. Which was okay with us as long as we got to go with them. There in 'vacationland' we would adopt his Yankee food, 'bottled water' from Poland Springs, cream of wheat, and Uncle Tink's Blueberry Pie. And like Poppa, we found one food we couldn't abide, Mincemeat Pie. Sorry, Aunt Arlene.


Walking the rocky beaches of Maine, touring the shipyards of 'Old Port' and 'chasing the light houses' along the rocky coastline, we wondered how Poppa could leave his native state. Until he explained to us how he grew tired of climbing out of the second story window on frigid school mornings, to dig out the seven foot snow drifts from around the front door to let his family out.


We remember being still with Poppa and watching....listening. He always kept his binoculars close by as he would watch the birds and deer come to the feeders in the back yard. In Maine, he would take his bincoulars to the beach and to the bay. He was content to sit for hours and watch the ships come in.


We remember Poppa's hands. Gifted hands that filled our homes with his beautiful furniture. Hands that collected, sorted and archived stamps and coins, pieced together puzzels, and painstakingly built a ship in a bottle. Hands that were quick to hug, to hold and to encourage us. Hands that would hold ours as he spun us around the room with our small feet perched on top of his feet as he hummed a country western song.
Poppa, we remember you and we will not forget your humor, your love, and your lessons on life. We will remember that God let you stay a little bit longer on 'borrowed time' to be our Poppa and to have the chance to dance with you.