Florida- 6/26/06
Friday we went to eat in a little cafe in Apalachicola, FL. Filled with tacky fish nets, it was crowded and we had to negotiate seating with the hostess. As she talked to me, she kept her eyes on Austin who was busy looking at the walls and the neon fish caught in those fake nets.
We ended up at two tables for four with Austin still in his stroller. Again, the hostess just kept looking questioningly at him and I began to wonder if she had a relative with Down syndrome.
The stroller proved to be awkward, so Becca brought his high chair over. Austin was in a great mood while he waited for his chicken fingers and french fries. So we passed the time playing pat-a-cake and 'itsy bitsy spider.' When she heard us singing, the hostess left the door and came over and stood directly in front of Austin. She watched him pantomime the hand motions with a wistful look on her face.
"My son used to do that for itsy bitsy spider." And she mimicked his motion...both hands meeting in the middle ...fingertips only. Finally looking at me, she moved in close, leaned down and said,"This is MY angel, Hunter." Around her neck was a medallion with the image of a cute two year old with light hair and round glasses. Ah, I thought, that's it. "Angel" is code in our world for a child with Ds.
"He was two in this picture...he'd be six now. But he had a heart defect."
My heart sank. I didn't want to know, but I asked anyway. She seemed to need to tell me. "So does Austin," I told her. "He had open heart surgery at a week old. What happened to your Hunter?"
She kind of shrugged and continue to watch Austin. "He had surgery at 3 months...then a pacemaker. He did great. Then one day ...he started going down hill, then he was gone." I couldn't help it. In a whisper I said, "How scary." Then a bit louder, "I'm so sorry."
We spent a few minutes more talking about the different heart defects. Then she went back to work. I couldn't eat. I fed Austin and just thought about two year old Hunter. I don't know if she had any more children.
As we finished up lunch, I thought about what I could say to her. I felt a need to let her know that it was okay to have approached me about Austin.....and that I cared about her 'angel.'
I sent the kids on out to the shops while I waited for our bill and watched the hostess roll silverware in cloth napkins. I racked my brain for something really meaningful to say. I almost walked past her without speaking. But she looked up at me and her eyes were swimming in tears. I reached out touched her knee and said, "Thank you for telling me about your son." I couldn't say anything else past the lump in my throat. She smiled and tried to speak but couldn't. We just nodded at each other as tears started to roll down her cheeks.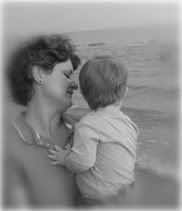 She wiped her face, sighed and then went back to rolling her napkins. Six days later, I'm still thinking about her angel, Hunter, and the medallion she wears close to her heart. Holding Austin tight, kissing his sweet fat neck, and breathing in that baby scent that still clings to his skin....I realize that even if my angel stays with us only a short while, I'd still choose to be his mommy. Regardless of the therapy schedules, the medical bills, and yes, even the stares, my life is better with him than without him.
"Then I saw a new heaven and a new earth, for the first heaven and the first earth had passed away......I heard a loud voice from the throne saying, "Now the dwelling of God is with men, and he will live with them. They will be his people, and God himself will be with them and be their God. He will wipe every tear from their eyes. There will be no more death or mourning or crying or pain, for the old order of things has passed away." Revelation 21: 1, 3-4
Keep the Faith ~Amy